/

Did you know?

/

Tasting
Tasting
AS WITH FINE WINES, A PROPER OLIVE-OIL TASTING TAKES PLACE IN QUIET BOOTHS, USING TINTED BLUE GLASSES COVERED BY A WATCH GLASS.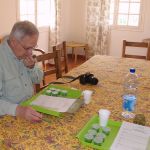 Here, we will simply prime the palate of beginners and connoisseurs.
Olive oil is a condiment. But our oil - like any exceptional product, and which also has its own AOP label - deserves to be tasted in the proper way.
A sensorial awakening awaits you! Tasting requires a certain mood of meditation. You should choose a neutral, odour-free place and use a small recipient to unravel the fragrances and flavours of the oil.


With your nose, you can distinguish the three main fruity profiles: fruité vert, with notes of cut grass; fruité noir, with black-olive aromas; and fruité mûr (ripe fruitiness) with a mild floral bouquet.
On your palate, just suck in a little air as you would with a wine, and discover a rich aromatic palette: green bananas, raw artichoke, sweet almonds, basil, mint, candied fruits, vanilla, blackcurrants, cocoa, tomato...
The comes the bitterness - the only taste, in the physiological sense of the term, that can be detected in olive oil. This bitterness will vary in strength depending on the olive variety used.

On the finish, you may well be surprised by a peppery sensation: this is just the polyphenols tickling your throat.


The overall impression should be harmonious - and is pure delight for the tastebuds!

Huile d'olive de la vallée des Baux de Provence