/

Domaine CastelaS

/

Visit our olive groves

/

Les Baumettes
Les Baumettes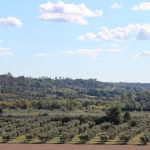 This grove, near the hamlet of Les Beaumettes (a far cry from the Marseille prison of the same name!), lies on the south-facing slopes of Les Alpilles, not far from the village of Mouriès. It is a magical and timeless place, where for several years the trees grew wild.
We have entirely restructured the grove, restoring the trees to vigorous health; two years later, they had regained their youth and resumed their reproductive role. This grove is now a generous bearer in full production, and has been enlarged by a pretty parcel where we have grafted main branches onto single-trunk trees, which are easier to work with and prune.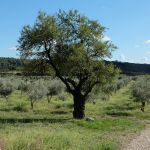 Here, as in other groves, there stands a magnificent almond tree with a twisted trunk, which once served to mark the plots. There are no fences or barbed wire here!

Huile d'olive de la vallée des Baux de Provence